TIDE 36 sailing yacht
Elegant and stylish.
It is expected to be completed by June 2022: That is when Maritime Faserverbundtechnik Haring will showcase its TIDE 36, which is currently under construction. We can hardly wait for that date, but all good things take time. But at this stage we can confidently assure you that the TIDE 36 is guaranteed to fulfil all your requirements for a modern sailing yacht, ideally suited to tidal areas and shallow Baltic waters coupled with its outstanding comfort.
Comfort + safety = TIDE 36
The concept of the new sailing yacht provides for CE-category C canting safety, offering considerable improved safety over other dinghy cruisers. Nevertheless, the lightweight ballasted centreboard can be retracted without hydraulics and has a minimum draft of only 50 cm. This feature increases the range available to the boat between tides. The yacht is suitable for laying aground and, thanks to its powerful built-in motor with sail drive, has plenty of reliable safety reserves when sailing with the wind and in current.
The kick-up rudder can be retracted and automatically folded up when the boat hits ground. The rig is easy to operate and boasts a self-turning foresail with integrated rail. What is more, this sailing yacht can also be towed by trailer!
The classic long-drawn design of the TIDE 36 with its distinctive dish-shaped hull creates a maximum headroom of almost 1.90 m. It is available with either elliptical bullseyes or modern window line.
Below deck, the TIDE 36 offers the comfort you have come to expect as a discerning yachting enthusiast. In addition to its proven mahogany furniture, there is also a very attractive model with cherry veneer furniture, which creates a light and airy ambience as the colours lighten upwards.
Technical data
Length with rudder: Lmax approx. 10,70 m
Hull length: Lh 10.70 m
Length at waterline: LWI 9,68 m

Maximum width: Bmax from 3,00 m
Hull width: Bh 3,00 m
Width at waterline: BWI 2,70 m

Draft: T 1,90 m (on KWL - standard keel)
Draft: T 1,65 m (on KWL - optional flat keel)
Draft: T 1,05 - 1,90 m (on KWL – optional lifting keel)

Projected area of sail: 51,0 m2
Number of sails:

Keel weight: 1100 kg
Lightweight: mLC ab 3500 kg
Displacement: Disp 3680 kg
Maximum weight: mLDC 4500 kg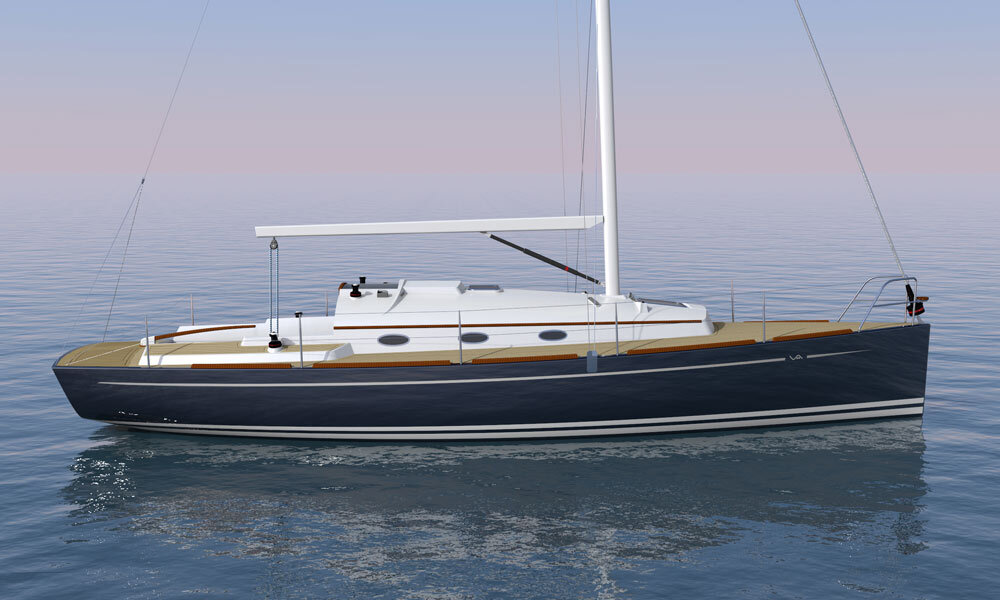 Maritime Faserverbundtechnik Haring GmbH expressly points out that all information is preliminary.
Compared to other sailing cruisers of this size, we achieve this light weight thanks to the high-quality construction and slimline hull lines of the TIDE 36. In conjunction with its extremely powerful keel, you can expect enjoyable sailing and steering qualities teamed with an above-average performance – without the need for a sporty crew. A welcome difference!
In collaboration between the team at MFH and the engineering office of Marc-Oliver von Ahlen, the TIDE 36 was developed for real sailors who recognise and appreciate this difference. The focus with this keeled yacht was therefore not on a large converted space with the maximum number of berths. Instead, the fit-out provides the ultimate in comfort for two people and a guest.